General Policies & Reminders
Are you wearing the appropriate coloured wristband? If not, please stay off all equipment or head down to reception to purchase a Clip 'n Climb session.
Parents are responsible for their children at all times while at Clip 'n Climb Dunedin.
If you are pregnant, have a pre-existing heart condition, a pre-existing back problem or any other medical condition we advise you not to participate in this activity.
Our minimum age is 3 years old, with a minimum weight of 10kg and a minimum height requirement of 100cm.
Children, 14 years and younger, MUST have a parent/guardian present at Clip 'n Climb Dunedin.
All pre-school aged children MUST be actively supervised and accompanied by an adult caregiver (16 yrs or older).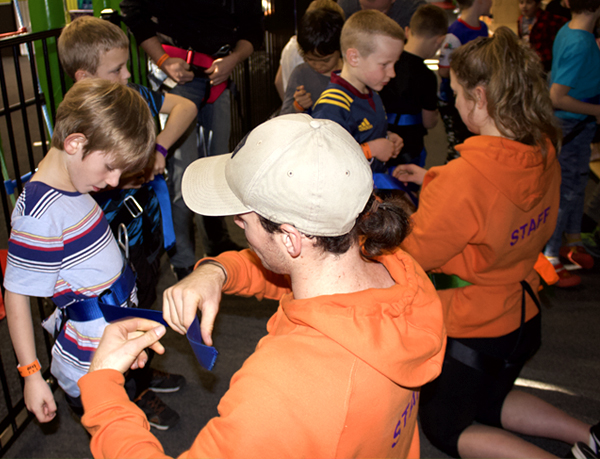 Rules for Climbers
Climber maximum weight is 150 kgs (330 lbs)
Climber minimum weight is 10 kgs (22lbs)
Climber must fit safely in a harness
Climber must have harness checked before climbing
Climber must attend Safety Briefing before climbing
Climber must follow Staff instructions at all times
No flip-flops or open toe shoes. Ensure shoe laces are tied
No jewellery to be worn. Eyeglasses must be 'secure'
Long hair must be tied back
No chewing gum, food or drinks allowed in the climbing area
No running, jumping or pushing in the climbing arena
Climber Responsibility
We value your safety but if you have any concerns about any of the equipment or another climber's behaviour, please bring it to the attention of a member of staff. You should be in good health and you should participate in a responsible manner.
If you go to the toilet you must remove your harness and have it rechecked by a member of staff before climbing again.